Women, Business & Golf was created in 1998, as an annual event that encourages women to make golf a part of their lives and add value to their business careers.
Dates announced for 2010 - Two Days!
July 6th & 26th
Please join us July 6th at
Glen Arbour or July 26th at Fox Harb'r

NEW FOR 2009 - Golfers have the option of playing the Big Course for 9 holes! And, for those who want a truly unforgettable experience, on Monday Night, we are hosting an evening of VIP Wine & Fun at our Women, Business & Golf (WB&G) Condo onsite! We've arranged preferred accommodation rates for guests of WB&Golf, which includes our VIP night for you and your guests!
This exclusive event is a fun day of learning & networking, for business women golfers of all abilities! WB&Golf, is a great reward for staff and is an experience your guests will never forget!
"The entire event was excellent and I am all ready to sign up for next year. The instructors were patient and fully capable of dealing with a group of golfers at all stages of the learning curve! The lessons built up my confidence to play more often and the networking gave me lots of future partners on the course. Congratulations!"
- Bev MacAdam
RBC Financial Group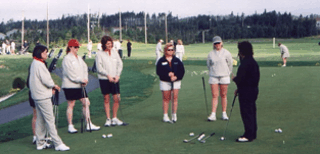 Our golf day includes:
4 hours of station-to-station instruction. Clinics are taught on a 6:1 student/instructor ratio covering the basics, such as; chipping and putting, pitching and the full swing,

2.5 hours of instruction on the Par 3 Executive Course which will provide tips on golf etiquette, rules and course management, or opt for 9 holes of scramble golf on the big course (additional fee applies),

a wine & cheese closing reception,

a golfer's snack package for the drive home!
See detailed schedule to days events here.